NOT JUST PROTEST SONGS – HOW DOES THE MUSIC WORLD RESPOND TO THE WAR?
THE SANCTIONS IMPOSED ON RUSSIA BY WESTERN COUNTRIES ALSO APPLY TO THE SPHERE OF MUSIC. THEY IMPACT NOT ONLY THE RUSSIAN MEDIA AND ARTISTS, BUT ALSO THE USERS OF MUSIC STREAMING SERVICES. MORE AND MORE BUSINESSES, SERVICES, AND RECORD LABELS RESTRICT AND SUSPEND THEIR ACTIVITIES, OR WITHDRAW FROM RUSSIA ENTIRELY.
STREAMING SERVICES SANCTIONS IMPOSED ON RUSSIA
Russia is the 16th largest music market whose yearly revenue amounts to approximately 200 million USD (Global Music Report 2021).
Restrictions are being implemented by streaming services, among others. Spotify at first has closed its office in Moscow and has restricted the access of Russian media with connections to the machinery of state. Moreover, Spotify has deleted all the Russia Today and Sputnik content from its service in every EU country, and some others. Spotify confirmed recently that it will halt operations in Russia in condemnation of theirs military offensive in Ukraine. Youtube has also effectuated a blockade of Russian media.
RESTRICTIONS ON MUSIC ACTIVITIES IN RUSSIA
Western cultural institutions such as the Metropolitan Opera terminate their collaboration with musicians supporting the Russian machinery of state, e. g. with the famous soprano, Anna Netrebko. Works by Russian composers also disappear from Western opera houses. The Polish National Opera cancels the premiere of Boris Godunov. Opera Nova in Bydgoszcz cancels Tchaikovsky's Eugene Onegin. Similar steps have been taken by the Szczecin Philharmonic and by the National Forum of Music in Wroclaw. In Milan, the anthem of Ukraine was recently played instead of a piece by a Russian composer. Some radio stations, including "Program 2 of Polish Radio", have also announced the cancellation of Russian classical music.
SOLIDARY OPPOSITION AGAINST THE WAR
It was also expressed by the Live Nation concert corporation. It has announced further sanctions against Russia. Live Nation will no longer promote concerts or conduct any business there. Individual musicians have also declared that they will no longer play concerts for the Russian oligarchs. Such a declaration was made by, among others, Sting who announced that no oligarch is able to book his performance at a concert, wedding, or reception.
On the other hand, the income of authors and performers may be most affected by the British collective management organisation PRS For Music and its Russian counterpart RAO which are suspending their cooperation.
Another type of restriction is the blocking of all non-Russian content by the TikTok service in Russia.
WHAT ABOUT RECORD LABELS?
Universal Music Group has closed its offices and has suspended its operations in Russia. The label cited compliance with international sanctions to justify its decision. Similar steps have been taken by Warner Music, Kobalt, FUGA, and Sony Music. The latter has announced that it is suspending all investments in projects, promotional activities, and production. The president of FUGA, on the other hand, confirmed the suspension of the delivery of new music to such platforms and digital service providers as Yandex, vKontakte, and Zvooq/Sberzvuk.
HOW DO THESE DECISIONS AFFECT MUSICIANS FROM RUSSIA?
By suspending the cooperation of collecting societies in Russia, the musicians there will be deprived of the settlement of royalties received in other countries. This means that they will no longer receive remuneration for the use of their works outside of Russia.
Record labels that have imposed sanctions on operations on Russia are halting most of their operations with artists from Russia. As a result, Russian musicians who have been under the care of foreign labels will most likely be forced to change their publishers. Otherwise, it may not be feasible for them to e. g. release new recordings.
The sanctions imposed on Russia by singers or bands from other countries will also affect ordinary citizens. They have been deprived of the opportunity to go to concerts or to the theatre.
In the context of the suffering experienced by the victims of war, these are not, of course, terrible ailments. Instead, they may be one of many elements aimed at making Russian citizens aware of the breadth and intensity of opposition to the aggression against Ukraine.
HOW DOES THE MUSIC INDUSTRY SUPPORT UKRAINE?
Regardless of the sanctions, the support of the music industry is also important. We can be proud of many actions taken by Polish artists to support Ukraine. Recently, significant support was declared by Miuosh and other artists performing in the "Contemporary Songs" project. All the money collected from the pre-sales of the album recorded during the concert in Bielsko-Biała will be donated to Ukraine.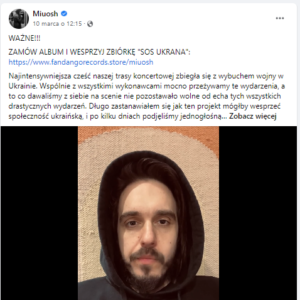 Source: https://fb.watch/bQFRcF8tjk/
The TVN station was having a charity concert. Daria Zawiałow, Vito Bambino, and Igo were the artists performing in Atlas Arena in Lodz. The total income was donated to the Polish Humanitarian Action.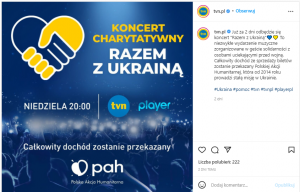 Source: https://www.instagram.com/p/CbPGu3HIRLv/
WE ALSO WANT TO HELP!
During the last concert tour, asthma had been collecting money for Ukraine. We doubled the amount that has already been collected. We believe that together we can do more, and we encourage you to help.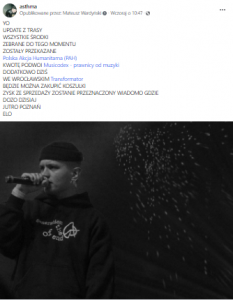 Source: https://www.facebook.com/asthmawakeup
wersja polska: https://musicodex.pl/nie-tylko-protest-songi-jak-swiat-muzyki-reaguje-na-wojne/ 
Izabela Niemczyk, Dominik Światkowski